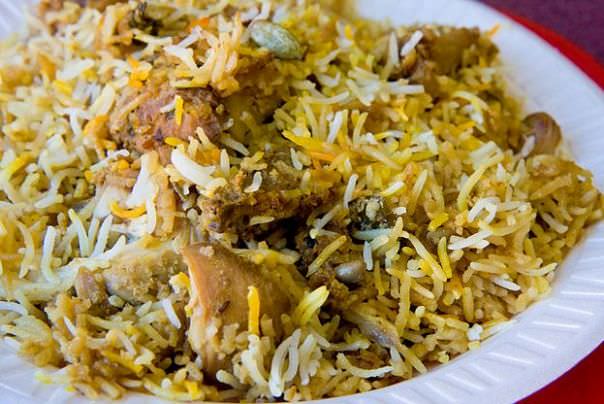 Biryani is one of the most favorite dishes in India. If you a biryani lover and residing in Pune, then take a look at this article to find top 10 restaurants in the city. They serve delicious biryani. If you want to taste the best  biryani in your city, then you must visit these restaurants. Here are our top picks for you. Check out the list of restaurants serving best biryani in Pune.  Decide your next destination.
Best Biryani Restaurant in Pune:
SP's Biryani House
ADDRESS:
1472, Lokmanya Bal Gangadhar Tilak Road, Lokamanya Nagar, Sadashiv Peth, Pune, Maharashtra 411030
CONTACT:
020 2447 5441
WEBSITE: www.spsbiryanihouse.com
---
C K Biryani House And Family Restaurant
ADDRESS:
Laxmi Complex, Marunjee Road, Hinjewadi, Pune – 411057, Near Allard School,Near DeepLaxmi jewellers
CONTACT:
020-33014173
---
Mahek Foods
ADDRESS:
84 Market Yard Gultekadi, Gultekdi, Pune – 411037, Near Gupte Market
CONTACT:
020-30136715
---
S V Catering Services
ADDRESS:
Ushkal Society, Sangavi, Pune – 411027, Near Vitthal Temple Old Sanghavi Abhinav Nagar
CONTACT:
020-39936496
---
Amar Paratha & Biryani House
ADDRESS:
Shop No.-6, Kalagram Society, Lohia Jain IT Park, Paud Road, Kothrud, Bhusari Colony, Kothrud, Pune, Maharashtra 411038
CONTACT:
98908 94647
---
The Biryani Factory
ADDRESS:
Shop No 32, Mio Pallazo, Dhole Patil Farms road, TuljaBhawani Nagar, Kharadi, Pune, Maharashtra 411041
CONTACT:
83900 00223
WEBSITE: thebiryanifactory.com
---
Hotel Reddy
ADDRESS:
sr no 6, patil buvanagar, opp zensar, Kumar Periwinkle, Pune, Maharashtra 411041
CONTACT:
95615 01666
---
Pune Biryani House
ADDRESS:
Samrat Ashoka Path, Opp. Commer Zone, IT Park, Kamal Path, Bhairav Nagar, Dhanori, Pune, Maharashtra 411006
CONTACT:
77092 63333
---
Pot Biryani
ADDRESS:
Shop No. 10 Riddhi Enclave, Ground Floor, Near Ganpati Chowk, Viman Nagar, Pune, Maharashtra 411041
CONTACT:
70380 32800
WEBSITE: www.realaroma.co.in
---
Hyderabad Biryani House 
ADDRESS:
Shop 23, Sai Shiv Corner, Nehru Nagar, Opposite Jai Santoshi Mata Mandir, Nehru Road, Mukesh Nagar, Pimpri, Pune, Maharashtra 411018
CONTACT:
99715 41466
So, are you feeling hungry? Don't wait. We have given you the list of best biryani in Pune.Dial their number and book a table. Once you tasted, you'll fall in love with the biryani again. Enjoy the authentic biryani. Happy gastronomic journey.
---
Image Credit : Wikipedia / CC BY 2.0