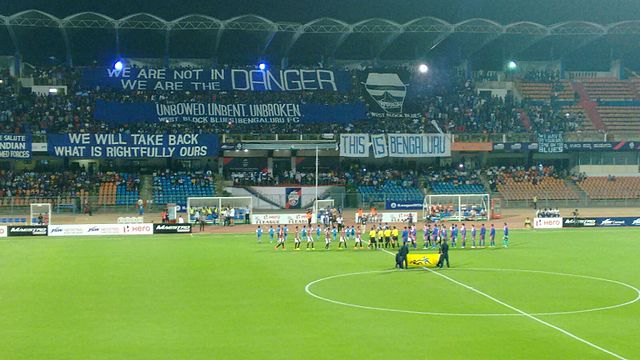 ---
There is no better way of honing your skills as a footballer than joining a football academy in Bangalore.
Football academies now realise the importance of producing new talent for the purpose of quality players in the fast growing Indian premier football league. Thus football is slowly gaining a foothold as an international level sport in India where even stars from around the world are playing for premium teams.
The only way to gain exposure as an upcoming footballer is to join a football academy to receive not only the best in soccer training and physical development but to be a part of the league circuit in India.
Choose a suitable Football Academy in Bangalore from the list below.
1. BANGALORE YOUTH FOOTBALL LEAGUE
ADDRESS :
No 11, Jeevan Building,
2nd floor,
Kumara Park East,
Bengaluru, Karnataka 560001
CONTACT :
096860 98644
WEBSITE : http://byfl.in/
2. SPT Sports
ADDRESS :
1st Block Koramangala,
Koramangala,
Bengaluru,
Karnataka 560034
CONTACT :
080 4147 5441
3. Game On Sports Management Pvt Ltd
ADDRESS :
No.110, Classic Business Center,
14/1 M.G. Road,
Bengaluru,
Karnataka 560001
CONTACT :
080 3965 8080
WEBSITE : http://www.gameonsports.in/
4. Football Academy of Bangalore
ADDRESS :
52/2, 52/3, 52/4,
Chaggalagatti Village,
Jalla, Mitganahalli,
Bengaluru, Karnataka 562149
5. Roots Football School
ADDRESS :
Loyola Group of Institutions,
Kalena Agrahara,
Bannerghatta Road,
Bengaluru, Karnataka 560076
CONTACT :
080 3965 8080
WEBSITE : www.rootsfootball.in
6. Dream United Football Academy – Whitefield
ADDRESS :
Kodigehalli Road,
Sadarmangala,
Krishnarajapura, Bengaluru,
Karnataka 560067
CONTACT :
088611 99444
WEBSITE : www.bangaloredreamunited.com
---
Read More : Health benefits of Playing football
---
7. Paris Saint Germain Football Academy
ADDRESS :
Sy No. 75, Near Total Mall,
Central Jail Road,
Eastwood Township,
Kasavanahalli,
Bengaluru, Karnataka 560035
CONTACT :
096209 80000
WEBSITE : http://psgfootballacademy.in
8. Bangalore Dream United
ADDRESS :
Sy No 105,
Kommaghatta Rd,
Kengeri Upanagara,
Bangalore 560070
CONTACT :
+91 9900965638
+91 8861199444
WEBSITE : www.bangaloredreamunited.com
9. Gameday Arts
CONTACT :
96209 80000 / 97419 11069
WEBSITE : www.gamedayarts.com
10. SPT Sports Academy
ADDRESS :
Mullur Sarjapur Road
Bangalore- 560 035
CONTACT :
+91 80500 77678
WEBSITE : http://sptindia.com/
Joining any international standard football academy in Bangalore that will provide you several benefits to become a world class footballer in India. Advance your passion by improving your chances to play in leagues and national level football.
This list helps you source the top 10 football academies in Bangalore so you can choose as per your inconvenience by browsing what's on offer.
Check out the best possible football academy to start on your road to soccer stardom.
---
Image Credit: Wikipedia   / CC BY-SA 4.0