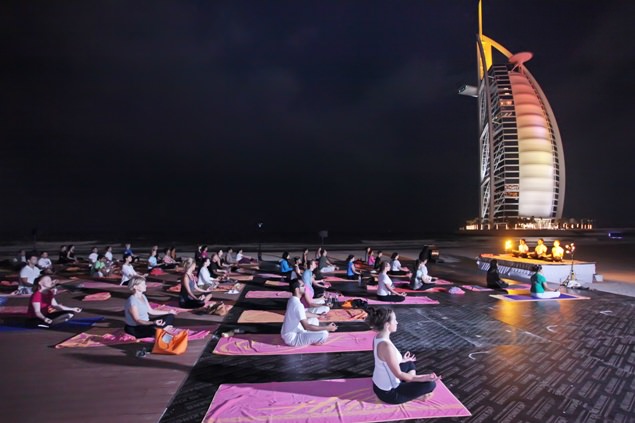 The bustling lifestyle of Dubai requires people to stay fit and healthy. Join yoga classes in Dubai to stay tireless and energetic all day at work.
Yoga increases your muscle flexibility and strength, manages your body weight and circulatory health, and balances your body metabolism. It is an osteopathic approach towards the body's self and natural healing. In fact, yoga is a perfect combination of mind and body workout that makes a huge difference in the practitioner's life.
There are several centers where you can practice yoga in Dubai. Regular practice of yoga lessens your chronic pains, such as, carpal tunnel syndrome, arthritis, lower back pain and other various types of headaches. Make yoga your regular habit for a healthy and balanced life.Let's have a look on the Yoga Classes & Centers in Dubai.
---
Yoga Classes & Centers in Dubai:
---
RAWRYOGA
ADDRESS :
713, 7th Floor, Concord Tower ,Dubai Media City ,Dubai, U.A.E (P.O BOX 334471)
CONTACT :
+971 (0) 4 4232808 / +971 (0) 4 4232655
WEBSITE : www.rawryoga.com
---
Yoga Square
ADDRESS :
1408 – SIT Tower, Dubai Silicon Oasis, United Arab Emirates
CONTACT :
04 379 3314
WEBSITE : www.yogasquare-me.com
---
Gems Of Yoga – Dubai
ADDRESS :
Suite 1701, White Crown Building, Sheikh Zayed Road, 37301, Dubai, UAE
CONTACT :
+971 (0)55 653 27 50 / +971 (0)4 331 51 61
WEBSITE :  www.gemsofyogadubai.com
---
The Studio Yoga & Fitness
ADDRESS :
Al Wasl Rd – Dubai – United Arab Emirates
CONTACT :
+971 4 346 7110
WEBSITE : www.thestudiodxb.com
---
Yoga House
ADDRESS :
1st Street, Building 4, Office 304, Emaar Business Park, The Greens – Dubai – United Arab Emirates
CONTACT :
+971 56 179 8668
WEBSITE : www.yogahouse.ae
---
Nirvana Yoga
ADDRESS :
Jumeirah Islands Club، Al Warood St,Jumeirah Island – Dubai – United Arab Emirates
CONTACT :
+971 4 352 3729
WEBSITE : www.nirvanayoga.co
---
Yogadarshanam School Dubai
ADDRESS :
#103 ,Icon Tower, Tecom Near Greens, Next to Byblos, Hotel – Dubai – United Arab Emirates
CONTACT :
+971 50 216 5740
WEBSITE : www.yogadarshanam.org
---
Eco Yoga Sanctuary
ADDRESS :
Jumeira Rd – Dubai – United Arab Emirates
CONTACT :
+971 4 385 6633
WEBSITE : www.eys.ae
---
Urban Yoga
ADDRESS :
3701 Aspect Tower, Executive Towers, Business Bay – Dubai – United Arab Emirates
CONTACT :
+971 4 369 7882
WEBSITE : www.urbanyoga.ae
---
InspireMeYoga
ADDRESS :
Indigo Central 8 – Dubai – United Arab Emirates
CONTACT :
+971 4 321 9771
WEBSITE : www.inspiremeyoga.net
---
Mia Vita Yoga
ADDRESS :
Boutique Plaza T-101A, Executive Towers – Dubai – United Arab Emirates
CONTACT :
+971 55 532 4259
WEBSITE : www.miavitayoga.com
---
Bharat Thakur Artistic Yoga
ADDRESS :
Ground Floor, Golf Club, Emirates Emirates Golf Club FitLab – Dubai – United Arab Emirates
CONTACT :
+971 800 9642
WEBSITE : www.artisticyoga.com
---
Bay Yoga Center – Hot Bikram Yoga Dubai
ADDRESS :
Grosvenor Tower – Dubai – United Arab Emirates
CONTACT :
+971 4 425 5960
WEBSITE : www.bayyoga.ae
---
Exhale Fitness Studio
ADDRESS :
Murjan 1, Plaza Level, Jumeirah Beach Residence – Dubai – United Arab Emirates
CONTACT :
+971 4 424 3717
WEBSITE : www.exhaledubai.com
---
Zen Yoga Dubai Media City
ADDRESS :
BBC building #10 Ground floor، DUBAI MEDIA CITY – Dubai – United Arab Emirates
CONTACT :
+971 4 367 0435
WEBSITE : www.yoga.ae
---
Yoga Classes in Bur Dubai :
---
Bharat Thakur Artistic Yoga
ADDRESS :
 1 A St – Dubai – United Arab Emirates
CONTACT :
+971 800 9642
---
Vedic Yoga Center
ADDRESS :
 M Floor-01, Al Jawhara Building,Bank Street، opp Apsara Supermarket – Dubai – United Arab Emirates
CONTACT :
+971 55 944 7373
---
Gems Of Yoga
ADDRESS :
Sheikh Zayed Rd – Dubai – United Arab Emirates
CONTACT :
+971 4 331 5161
---
Raja Yoga Center
ADDRESS :
SHOP NO. 27, 29TH ST, ZA'BEEL BLDG, KARAMA – Dubai – United Arab Emirates
CONTACT :
+971 50 535 8498
---
Rumana Rab Holistic Yoga
ADDRESS :
 Suite 103, Office Court Building، Next to Oud Metha Metro Station – United Arab Emirates
CONTACT :
 +971 4 396 7648
---
Yoga Classes in Dubai Karama :
---
Nirvana Yoga
ADDRESS :
 Khalid Bin Al Waleed Rd – Dubai – United Arab Emirates
CONTACT :
+971 52 873 3228
---
Art of Living Center ( AOL Dubai )
ADDRESS :
 Dubai – United Arab Emirates
CONTACT :
+971 50 534 2186
---
Rhythm Yoga & Fitness Centre
ADDRESS :
 Street # 37B – Dubai – United Arab Emirates
CONTACT :
+971 4 334 8955
---
Nature Yoga Center
ADDRESS :
Al Ain Center – Office # 112 – Dubai – United Arab Emirates
CONTACT :
+971 52 647 5646
---
Eco Yoga Sanctuary
ADDRESS :
Jumeirah St – Dubai – United Arab Emirates
CONTACT :
+971 4 385 6633
---
Yoga Classes in Deira Dubai: 
---
Hatha Vidya Traditional School of Yoga
ADDRESS :
# 310 Sandos al nahda Bldg, Amman street, Near to Big mart(Jazz rockers)، AL Nahda 2 – Dubai – United Arab Emirates
CONTACT :
+971 55 131 4466
---
Namaste Yoga Center
ADDRESS :
54 Amman St – Dubai – United Arab Emirates
CONTACT :
+971 52 138 6030
---
Mia Vita Yoga
ADDRESS :
Boutique Plaza T-101A, Executive Towers – Dubai – United Arab Emirates
CONTACT :
+971 55 532 4259
---
Bay Yoga Center – Hot Bikram Yoga Dubai
ADDRESS :
Grosvenor Tower – Dubai – United Arab Emirates
CONTACT :
+971 4 425 5960
---
Urban Yoga
ADDRESS :
 3701 Aspect Tower, Executive Towers, Business Bay – Dubai – United Arab Emirates
CONTACT :
+971 4 369 7882
---
Free Yoga Classes in Dubai:
---
Fields of Yoga
ADDRESS :
Jumeirah Beach, Umm Suqeim 1 – Dubai – United Arab Emirates
---
Lifestyle Yoga
ADDRESS :
Mai Tower – Dubai – United Arab Emirates
CONTACT :
+971 800 59642
---
Yoga House
ADDRESS :
1st Street, Building 4, Office 304, Emaar Business Park, The Greens – Dubai – United Arab Emirates
CONTACT :
+971 52 772 2701
Join any of the above mentioned yoga classes in Dubai, and explore your limits. Yoga is for everyone of every shape and size to get more positive outlook on life. Get in tune with your body and soul with regular yoga practice
---
Image Credit: bookmyshow