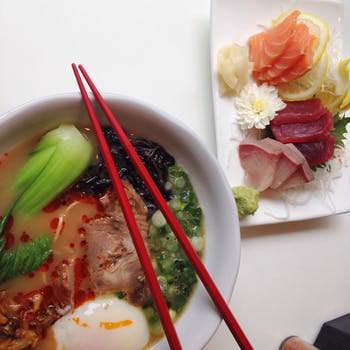 Are you fond of having authentic Chinese food? Then you need not worry. There are a lot of Chinese restaurants in Pune where you can satisfy yourself. The best thing about Chinese food is that it is yummy and healthy at the same time. A variety of Chinese dishes are steamed which means that they are low in calories. Chinese food like momos which can be availed steamed and is had with a tasty sauce is very beneficial for one's health. As we all know that it is very difficult to feed children vegetable.
Chinese food is filled with veggies and meat. It is so delicious that children feed on it without even recognizing that they had a lot of veggies without being told. An authentic Chinese restaurant will always cook food with very less salt in it. So, it is good for patients with high blood pressure.
Best Chinese restaurant in Pune:
1. Tsaai Shen Yeh
ADDRESS:
Echelon Building, Shop No. 3, Baner Pashan Link Road, Pashan, Pune, Maharashtra 411021
CONTACT:
020 6560 8350
---
2. Yo China Cafe
ADDRESS:
Phoenix Market City, Clover Park, Viman Nagar, Pune, Maharashtra 411014
CONTACT:
020 3952 0652
---
3. Pawan Chinese Family Restaurant
ADDRESS:
Dhanori Road, Kalas, Gokul Nagar, Dhanori, Pune, Maharashtra 411015
CONTACT:
020 2717 1903
---
4. Chinjabi
ADDRESS:
Fortune Plaza, NDA-Pashan Road, Bavdhan Khurd, Bavdhan, Pune, Maharashtra 411021
CONTACT:
96230 63240
---
5.Shaolin "The Chinese Cuisine"
ADDRESS:
1st Floor, Thopate Heights , Vishal Nagar,, Pimple Nilakh, wakad, pune, Maharashtra 411057
CONTACT:
89563 39000
WEBSITE: theshaolin.in
---
6. Made In China
ADDRESS:
Behind Club Delhi Joshi Railway Museum Plot, Sangam Press Road Kothrud, Pune, Maharashtra 411038
CONTACT:
87936 88889
---
7.Radio Hotel
ADDRESS:
1957 ,Dr Saldhana Street,Near Shivaji Market, Camp, Pune, Maharashtra 411001
CONTACT:
020 2634 1048
---
8.Reddy's Restaurant
ADDRESS:
Near Konark Campas Rajiv Nagar North Vimannagar Pune -14, Pune, Maharashtra 411014
CONTACT:
98816 55899
---
9.Star of China 
ADDRESS:
Sunshree Woods Commercial Complex,NIBM Road, Kondhwa, Pune, Maharashtra 411048
CONTACT:
020 2685 4888
---
10.HAKA HOUSE
ADDRESS:
Shop no 12, Westend Mall, 2nd Floor, Near Parihar Chowk, Aundh., Pune, Maharashtra 411007
CONTACT:
83900 25705
So, were you able to find the best Chinese restaurant in Pune? If you did, then you can visit them on weekends with your entire family to gratify yourself with some delicious and healthy food. You can always ask them questions if you have any queries related to the restaurant.
---
Image Credit : Pexels