---
It's that beautiful time of the year when the world celebrates Christmas.  As a festival that crosses borders of caste ,creed and religion, Christmas is celebrated by many where the most sought after symbol of Christmas is undoubtedly the universal Christmas cake.  Every celebratory venue will at this very moment be in the throes of planning their Christmas dinner menu where the focus on delicious Christmas food will include several culinary elements integral to Christmas recipes much sought after by foodies worldwide.
If you really want to enjoy the true spirit of Christmas, then there is no better way than to implement our Christmas dinner ideas into your celebration.  What we have compiled for you is a brilliant Christmas menu  that outlines in detail traditional Christmas treats such as Christmas cookies, Christmas desserts , Christmas food and of course a great Christmas pudding recipe.
All of these authentic Christmas recipes have been passed down for generations and has been provided by a stalwart of colonial cooking in India, Mrs Bridgette White Kumar. The following menu is a complete Christmas dinner consisting of the following which is almost an entire Christmas dinner menu course for a delicious seasonal culinary experience.
Ginger wine
Christmas Cake
Rose Cookies
Marzipan sweets
Roast Chicken
Christmas Plum Pudding
CHRISTMAS RECIPE # 1
---
Ginger wine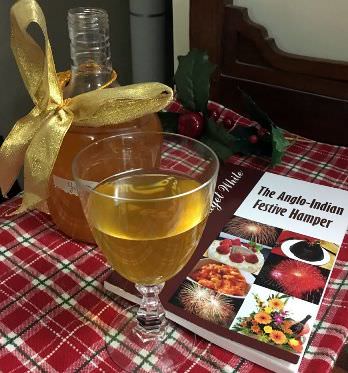 Ginger Wine is more of a cordial rather than a wine. It is also known as O T or 'THE OTHER THING' – the Temperance Drink for Teetotalers. In the days of prohibition during the war, people were advised to drink non-temperance wines. Ginger Wine is a good digestive and helps to wash down all the rich Christmas food. This wine is not fermented
Ingredients
100 grams fresh ginger
1 kg sugar
6 limes (extract the juice)
2 pieces cinnamon about one inch in length
1 red chili (remove the seeds)
4 liters water
Preparation
Peel and wash the ginger and cut into thin slices. Make lime juice and keep aside.
In a large clean vessel, boil the fresh ginger, sugar, cinnamon and red chilies with 4 liters of water on low heat till the decoction is slightly thick.
Remove from heat and add the lime juice. When cold, strain through a thin cloth, then bottle, and use whenever required. This wine will last for almost 3 months if kept in the fridge and is a good digestive.
CHRISTMAS RECIPE 2:
---
Christmas Cake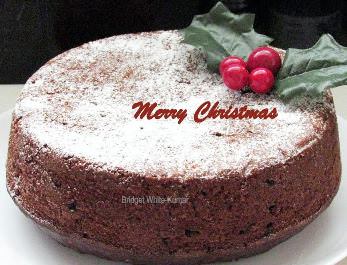 Most Anglo Indian families have their own Christmas cake recipe which is usually handed down through generations. Candied fruit, plums, currants, raisins, orange peel etc are dexterously cut and soaked in Rum or Brandy a few weeks in advance.  They are then added to the flour, butter and sugar to make the Christmas Cakes. Here is a traditional Christmas cake recipe I've been using for many years. It may not look very dark but it's rich and tasty.
Ingredients:
500 grams refined flour or plain flour
300 grams dark brown sugar
500 grams unsalted butter
500 grams mixed dried fruits (equal quantities of black currants, raisins and sultanas) which have been chopped finely and soaked in rum or brandy before hand
100 grams chopped orange / lemon peel
1 tablespoon zest of lemon or orange
¼ teaspoon salt
½ teaspoon nutmeg powder
½ teaspoon cinnamon powder
4 eggs beaten well
4 tablespoons milk (optional)
1 teaspoon baking powder
1 teaspoon vanilla essence / extract
2 tablespoons Black Currant Jam or Orange Marmalade
2 tablespoons Black Treacle Syrup or Date Syrup (optional)
Preparation:

Heat the oven to 150°C
Remove the chopped fruit from the rum, drain and keep aside.  Sift the flour, baking powder, cinnamon powder, nutmeg powder and salt together.
Dust the orange / lemon peel and the chopped soaked fruit with a little flour.
Cream the butter and sugar well. Add the beaten eggs, treacle / date syrup, vanilla essence, orange / lemon zest and mix well. Now add the Black Currant Jam / Marmalade, orange / lemon peel and chopped fruit. Slowly add the flour and mix gently till all the ingredients are combined well. If the mixture is too thick add a little milk.
Pour into a greased and papered baking tin or dish and bake in a slow oven (150°C ) for about one hour or more. (Check if cooked by inserting a tooth pick. If the tooth pick comes out clean, your cake is ready. Bake for some more time if still raw inside)
Remove from the oven when done and set aside to cool.
When the cake is completely cool, poke all over with tooth pick and drizzle brandy or rum all over the cake, (repeat once in every week or ten days). Wrap in foil paper, and store in an air tight container. This cake will last for months if stored in an air tight container
CHRISTMAS RECIPE 3:
---
Rose Cookies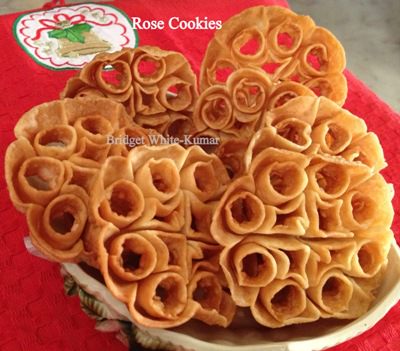 Christmas treats such as Rose Cookies are delicious fried easy Christmas cookies. Though named as Cookies, they are not cookies in the strict sense as they not baked but deep fried in hot oil. Rose Christmas Cookies are also known as Rosette Cookies, Rosa Cookies, etc and are prepared with a sweetened batter consisting of Flour, Eggs, Vanilla Extract and Coconut milk. The crisp cookies are made by plunging a special hand-held 'Rose Cookie Mould' or 'Rosette Iron' lightly coated with a sweet batter into hot oil.
Ingredients
1 kg refined flour or Maida
250 grams rice flour (optional)
200 grams butter or ghee
2 cups coconut milk
200 grams sugar
6 eggs beaten well
½ teaspoon salt
1 litre refined oil for frying
1 teaspoon vanilla essence
1 teaspoon baking powder
Preparation  
Mix all the ingredients together to form a smooth slightly thick batter. Heat oil in a deep pan till it reaches boiling point.
Now place the rose cookie mould into the oil to get hot. THIS IS CORRECT THE MOULD HAS TO BE HEATED
When the mould is hot enough dip it half way only into the batter and put it back immediately into the boiling oil.
Shake the mould to separate the cookie from it. Heat the mould again and repeat the process. Fry rose cookies till brown. Continue in this way till the batter is finished.
Note: The batter will stick to the rose cookie mould with a hissing sound only if it is sufficiently hot otherwise it will just slide off the mould. Christmas baking is fun once you get the hang of it.
CHRISTMAS RECIPE 4 :
---
Marzipan sweets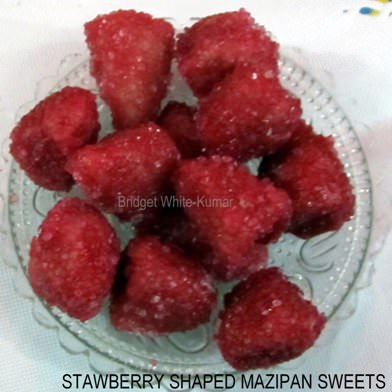 Home Made Marzipan Sweets are invariably made during Christmas Time. These Christmas treats are soft sweets made of cashews and almonds are moulded into different shapes. The taste heavenly as well.
Ingredients
250 grams almonds
250 grams cashew nuts
250 grams sugar
300 grams icing sugar
2 egg whites
A little rose water for grinding
¼ teaspoon almond essence
Preparation
Grind the almonds and cashew nuts with the egg whites and rose water to a smooth paste. Transfer the paste into a heavy bottomed pan and add the sugar. Cook on low heat stirring all the time till the mixture forms a soft ball. Remove from heat and add the icing sugar. Divide the mixture into 3 parts and add a few drops of different food color of your choice. Knead till it forms a dry ball. Divide the mixture into even sized balls and mould into different shapes.
CHRISTMAS RECIPE 5 :
---
Whole Chicken Roast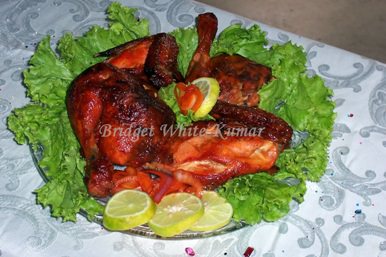 Ingredients
1 whole dressed chicken with the skin
Salt to taste
2 teaspoons pepper
1 teaspoon Chili Powder
½ teaspoon turmeric powder
2 red chillies broken into bits
2 pieces cinnamon
2 or 3 cloves
1 bay leaf
2 tablespoons oil or ghee
3 potatoes peeled
Preparation
Marinate the chicken with the salt, pepper, chili powder and turmeric powder for about ½ an hour.
Heat oil or ghee in a thick -bottomed pan and add the cinnamon. cloves, bay leaf and broken red chillies. Fry for a minute then add the whole chicken. Sear the chicken on high heat for a few minutes turning it from side to side till it changes color. Add 1 or 2 cups of water and mix well. Add the potatoes
Cover the pan with a tight lid and simmer over medium heat turning the chicken occasionally till the chicken is cooked. Remove the potatoes and keep aside. Continue to simmer on low heat till the chicken is roasted to a lovely golden brown. Remove the roasted chicken to a platter. Add the potatoes to the pan with a sprinkle of water and fry for a few minutes till the potatoes are coated with the roast residue. Remove the potatoes and place alongside the roasted chicken
Serve steamed vegetables and bread or rolls.
Well to end your Christmas Dinner what better way than to have the most sought after Christmas Dessert rather than Christmas Plum Pudding.
CHRISTMAS RECIPE 6 :
---
Christmas Plum Pudding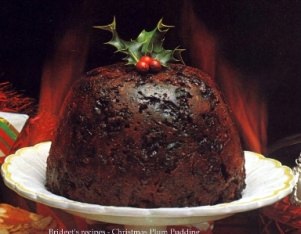 The Christmas pudding recipe is a dessert that is served after dinner on Christmas Day. In the olden days making the Christmas pudding was a family event where every member of the family would give the Christmas pudding a stir and make a wish. A coin, a ring or a thimble were sometimes added to the pudding mixture and the person who got it in his / her piece of the pudding on Christmas day was supposed to be lucky. The finger ring would foretell a wedding to the person who got it.
Ingredients
200 grams fresh bread crumbs
200 grams butter
2 teaspoons instant coffee
2 teaspoons golden syrup or date syrup
½ teaspoon baking powder
2 eggs beaten well
¼ cup rum
1 teaspoon ground cinnamon and cloves
¼ teaspoon ground nutmeg
100 grams chopped raisins
100 grams chopped black currants
100 grams mixed peel
½ teaspoon salt
100 grams sugar
Preparation
Cream the butter and sugar together then add the eggs and mix well. Gradually add all the other ingredients and mix well.
Grease a Pudding Mould or any suitable bowl with butter.
Pour the pudding mixture into it.
Steam the pudding for about 1 hour on low heat either in a pressure cooker or a suitable pan or steamer till it is firm to touch.
Note:  This Christmas pudding recipe can be made weeks in advance and refrigerated till required. Steam for 10 minute or microwave for 3 minutes before serving. For a more exotic taste, when still warm make a few small holes all over the pudding and pour about 6 tablespoons of rum over it
HOW TO FLAME YOUR CHRISTMAS PUDDING
 The flaming of the pudding needs a steady hand and for safety reasons, should not be done by someone who has enjoyed too much wine.
Have a Responsible and Healthy Christmas
We at team Fitlogy,hope you enjoyed our Christmas dinner ideas. All of these brilliant Christmas recipes are part of Mrs. Bridgette White Kumar's extensive collection of Anglo Indian and Colonial recipes which are available in the many books she has authored on the subject. You can visit her website here for details of purchase.
We do hope you have a responsible and healthy Christmas. We wish you a Merry Christmas and all of the blessings of the holiday season.
Please feel free to contribute your articles related to food and recipes.We would be happy to publish and highlight them for you.
Here are some Recipe books written by Bridget White (Available Online)
---