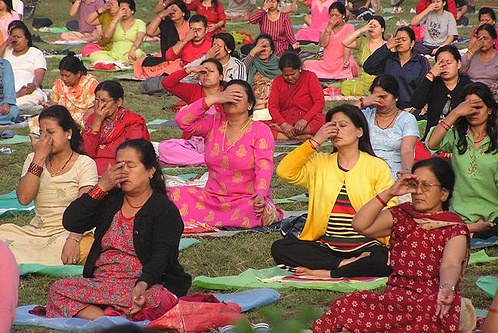 ---
Pranayam, a special breathing technique in yoga, is considered highly effective in curing Seasonal Affective Disorder.
 This article shall highlight few of the practices of  Pranayam  for Seasonal Affective Disorder.
Read along as we unravel them along with their benefits one by one.
1. Kapalabhati
Kapalabhati encourages a feeling of exhilaration in the patient when practiced during the winter months by installing light in the frontal region of the skull. This pranayam is known to energize the brain by producing heat from the light. As a result, the nervous system grows stronger.
2. Anapana
Simple and an easy source of motivation, this pranayam benefits the SAD patient by releasing their opinions and notions, enabling them to review and adjust their expectations. Being a form of Svadhyaya Anapana contributes to studying the breathing pattern. As the patient does so, he will regain his stability and balance incorporating positivity in their life. This asana in contrast to Kapalabhati can be practiced all year long.
3. Sitkari and Sitali
Both of these pranayams are associated with cooling down the body by breathing in cool air. Because of this, both these pranayams for Seasonal Affective Patients are highly recommended especially during the summer when the lights tend to over stimulate their senses.
4. Surya Bhedana
This pranayama is known to send strong impulses to the brain that goes on alleviate depression, lethargy and improve digestion and stimulates pineal gland. Some SAD patients have increased cravings for carbohydrates. Improved digestion repairs the problems in the pathway.
5. Visama Vritti
In Visamma Vritti, the patient is meant to create fluctuations of varying length to release different kinds of energy. When the inhalation is prolonged, it energizes the body system which is beneficial for the SAD patients, especially in the winter months.
6. Candra Bhedana
This technique also uses Vishnu Mudra to digitally control the breath. Inhalations are done through the left nostril and exhalations through the right. It cools the systems and calms the nerves.
This pranayama should be practiced during the summer months.
Pranayama for Seasonal Affective Disorder patients, however, must not be practiced if the patient experiences agitation while performing pranayama.
---
Read More
---
Image Credit: Flickr by Eric lon