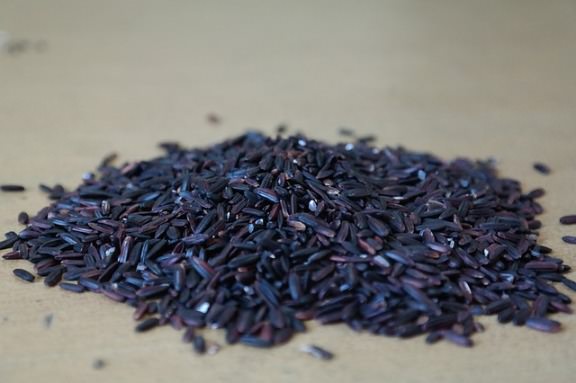 Black rice , actually a dark purple pigment found in blueberries,  but without sugar is a staple food of the Asian countries and south-east countries  and neighbouring populations, like India , Japan, Philippines, Vietnam,  and Myanmar. It is treasured with delicious roasted nutty taste, soft texture, and beautiful deep purple colour.
In ancient times, the emperor of China restricted to have black rice(Oryza Sativa) for the general people. Because of its black poisonous look, no for its high nutritional values, which mean it could be eaten only by the Emperor.
Ancient ordains referred to as "Longevity Rice" was reserved for the emperors of China. It is indigenous to North East India. It is commonly eaten in Manipuri cuisine  during the traditional feasts and called "Chakhao Poireiton", meaning Chak ahaoba.  Chakhao kheer is a popular pudding in these regions.
The women of this region wash their hair with boiled water with this black rice, in the belief, it makes her hair strong. The nutritional values of this wild rice eluded the common people in blind faith.
Now, you can eat this delicious food like an emperor every day, but beyond your expectation, you can't consume a lot at a time. There is something hidden behind  this wild black rice
I recommend you to eat black rice for its superior taste, fast and easy cooking and nutritional value, exclaims by one naturopath and an organic consultant:

– Dr. Anjali Pathak.
"Black Rice an organic  Ayurvedic Medicinal food  can lead a cancer patient  to complete cure", she exclaims.
Li-Ping Luo, a celebrated Chinese cancer specialist and his research  team  testified that it prevents invasion of cancer cells and induces differentiation.

Medicinal Features:
It is extremely rich in iron.
It acts as an antioxidant.
It activates detoxifying enzymes.
It is a rich source of fibre.
It is naturally gluten free.
The anthocyanins act as antioxidants and activate detoxifying enzymes.
Health Benefits of Forbidden Rice ( Black Rice):
It has relatively high mineral content, like copper, zinc, calcium, potassium, iron, which are very critical to mental and physical well- being.
Fe: Mineral Iron in the bloodstream carries  oxygen to the muscle and the brain.
K: Potassium provides to  build muscles and synthesizing proteins in the body.
Zn: Zinc provides faster growth in children and  builds a strong immune system.
Cu: It helps the  absorption of iron and helps the formation of collagen, thereby helping to enhance your skin
Ca: Calcium is primarily concerned with the building and maintaining strong teeth or bones in our health. It also helps in the proper functioning of the heart muscle and nerves. Generally, expected mothers needed it for their offspring.
In addition: Black rice is packed with proteins, carbohydrates, dietary fibre and excess of vitamins B and E.
How to prepare ?
Soak the black rice in fresh water for about  3 hours early,
then cook the rice in a pressure cooker or a pot as you  cook with white rice in the ratio of 1:3. (Rice and water)
How to identify authentic  Black Rice (Forbidden Rice)?
Black rice leaves black colour while washing in a bowl  and it is natural. 
Original black rice becomes sticky and black after cooking with a scent. Other black rice of Indian origin won't turn sticky.
It is the best substitute for white rice in your daily consumption for health. Enjoy black rice for your health.
---
Image Credit : Pixabay