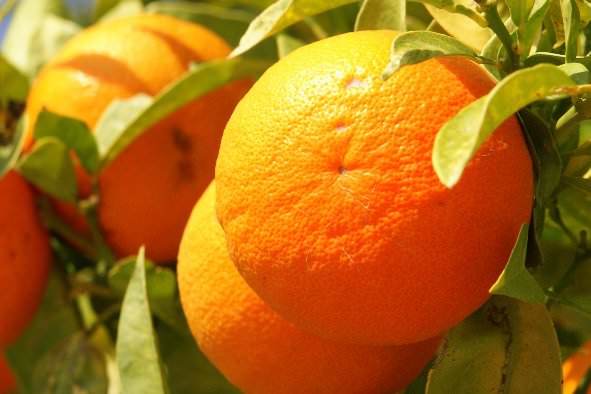 Other names of  Orange  –
Citrus aurantium ( Botanical name )
Kichili pazham ( Tamil ) 
Calories (energy) in  Orange :   48 K. cal / 100 gm
Major Nutrients Present  in  Orange:

Health Benefits of  Orange:
Helps to prevent cancer such as skin, lungs, breast, stomach, and colon cancers.
Prevents kidney diseases and reduces the risk of kidney stones.
Reduces risk of liver cancer.
Helpful in lowering cholesterol.
Boost heart health.
Lowers risk of diseases.
Fights against viral infections.
Helps in reducing constipation.
Help create a better vision.
Regulate high blood pressure.
Protect skin as it contains powerful antioxidants.
Points of Caution:
Excessive intake of orange  can cause tooth decay and high acid content can wear away enamel.
Can cause problems with insulin or weight gain.
---
Image Credit: Wikimedia
REFERENCES:
Major Nutrients Present- Nutritive Value of Indian Foods from National Institute of Nutrition.