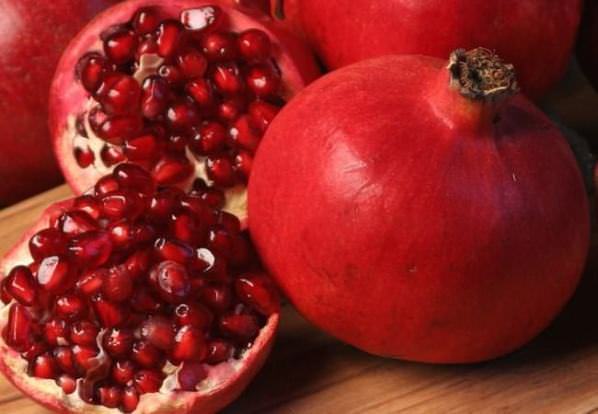 Pomegranate is one of the best  super foods and most powerful antioxidant.Health Benefits of Pomegranate mostly include its ability to Lowers cholesterol  factors.
Other names of  Pomegranate  –
Punica granatum (Botanical name)
Mathalam pazham (Tamil) 
Calories (energy) in Pomegranate :  65 K.cal / 100 gm
Major Nutrients Present in Pomegranate:

Health Benefits  of Pomegranate:
Most powerful antioxidant.
Pomegranate has Potent  immune  and anticancer   supporting effects.
Pomegranate also lowers blood pressure.
Inhibits abnormal platelet aggregation that could cause heart attacks, strokes and embolic diseases.
May have benefit to relieve or protect against depression and osteoporosis.
It has shown to push reversal of coronary artery disease plaque in human studies.
It helps to Lower cholesterol and other cardiac risk factors.
Helps to treat anemia.
---
REFERENCES:
Major Nutrients Present- Nutritive Value of Indian Foods from National Institute of Nutrition.