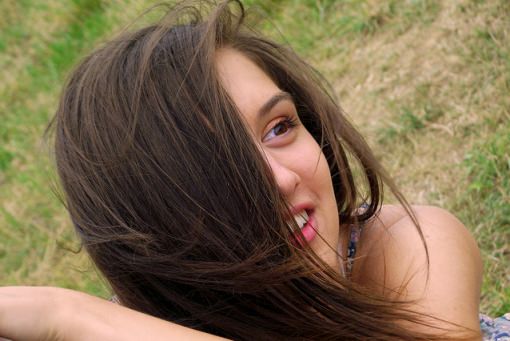 The summers with the heat and the continued exposure to the sun can dry your locks out. Discoloration is yet another possibility. Therefore, the need of the hour is to restore moisture and pamper your hair and the scalp alike to solve your hair care woes. In addition, what better way to pamper your precious tresses than deep conditioning and moisturizing it with hair packs? While the store bought, industrially manufactured hair packs may contain ingredients that may not suit your needs, or even harm your hair in the name of repairing it, these homemade hair masks for dry hair will take care of your needs without causing any damage.
Homemade Hair Masks for Dry Hair:
1. Avocado Hair Mask
2. Banana Hair Mask
3. Egg Hair Mask
4. Coconut Milk Hair Mask
5. Milk Hair Mask
6. Honey Hair Mask
7. Yoghurt Mask
8. Olive Oil Hair Mask
9. Beer Hair Mask
10. Sandalwood Hair Mask
11. Mayonnaise Hair Mask
12. Henna Hair Mask
1. Honey and Avocado Hair Mask
Honey is a popular moisturizer, which bears natural antibacterial and antifungal properties.
Avocado, on the other hand, is rich with Vitamin A, Vitamin D and Vitamin E along with a huge number of antioxidants.
When combined in a homemade hair pack like this, it can strengthen the roots of the hair, nourish the dry follicles and moisturize the scalp creating a habitable environment for the locks for their survival.
In a bowl, mix a quarter of a ripe avocado pulp and two tablespoons of honey.
With the back of a fork, mash the avocado into a smooth pulp and mix the honey with the avocado pulp.
Once done, apply the pack first on the roots of the hair and then along its length.
Let the pack sit for over an hour and then wash it off with plain water.
Using shampoo on the same day is recommended to get rid of the sticky honey.
2. Yoghurt, Banana and Fenugreek seeds hair pack
Going by the expert dermatologists, trichologists and nutritionists, all the above-mentioned ingredients, namely yoghurt, banana and fenugreek seeds are excellent for improving your hair health.
Yoghurt cleanses the scalp whereas banana conditions the hair and fenugreek seeds strengthen the roots of the hair follicles, aiding the process of hair growth.
Soak a tablespoon of fenugreek seeds in a cup of water overnight.
Sieve the seeds and grind it into a fine paste the next morning.
Mix equal proportions of yoghurt and a tablespoon of mashed banana into a smooth mixture.
Apply this to the roots of the hair follicles and then along the length of the hair and
leave it on for sixty odd minutes before rinsing it with a strong smelling citrus shampoo.
3. Apple Cider Vinegar, Eggs and Olive Oil Hair Pack
Apple cider vinegar, eggs and olive oil are a match made in heaven. While the eggs render a natural sheen to your locks, apple cider vinegar conditions the scalp and olive oil moisturizes your scalp.
Whisk an egg in a bowl and add two tablespoons each of olive oil and apple cider vinegar, to apply it to your scalp and the length of the hair shaft.
Massage your scalp thoroughly before leaving the pack on for thirty minutes.
Since this recipe uses eggs and eggs are pungent, always choose a strong, deep cleansing shampoo.
4. Coconut Milk and Lavender Hair Pack
Coconut milk, diluted with water and applied on the scalp renders a nice shine to your tresses.
Mix 3 tablespoons of coconut milk with the pulp of two or three fresh flowers of lavender.

If fresh lavender is not available, wet dried flowers easily available in sealed packages and then grind them in a mortar and pestle to mix with coconut milk for a fragrant hair mask.
This homemade hair mask is excellent for people who want their hair to smell nice.
5. Gooseberry, Milk and Shikakai Hair Mask
Gooseberry or amla blackens your hair whereas shikakai is an excellent cleanser.
Avail gooseberry powder and shikakai powder from a local pharmacy store and soak it in water overnight.

Sieve the water and combine this concentrate and milk in equal quantities to make a pack.

Now massage your scalp with this mask and wash it with normal water. Do not use a shampoo immediately after that.

Maintain a gap of at least 24 hours between the hair mask and shampooing session.
Due to the presence of the milk this is an ideal homemade hair mask for dry hair.
6. Honey and Banana Hair Mask
Both honey and banana are excellent moisturizers. While honey can prevent dandruff and moisten your scalp, banana promotes hair growth.
Mash one medium sized ripe banana with the back of a spoon and mix in a tablespoon of honey until it brings together into a nice gooey mixture.

Like other packs apply it on your scalp and cover it with a shower cap for an hour before washing it off with your regular shampoo.
7. Yoghurt and Egg Yolks Hair Mask
Yoghurt and egg yolks are a match made in heaven. You materal grandmother and paternal grandmother would fondly agree and approve of your decision to actually try out this homemade hair mask.
Yoghurt with the goodness of lactic enzymes helps you to get rid of dandruff whereas the egg yolks soften the hair, provide a natural sheen and controlling frizz.
Mix an egg yolk with two tablespoons of yoghurt and apply it generously on your hair.
Leave it for two hours before washing your hair with a strong smelling shampoo.
8. Vinegar and Olive Oil Hair Mask
Olive oil is a light oil with a rich density which moisturizes the locks.
The vinegar, on the other hand,, conditions the hair. Thus, this homemade hair mask for dry hair brings together the benefits of oiling and conditioning by prolonging the duration for which they remain in contact with the hair and the scalp.
Whisk two tablespoons each of vinegar and olive oil and apply it on your hair.

Cover your head with a shower cap and leave it overnight. Shampoo your hair the next morning before stepping out.
9. Beer, Banana and Avocado Hair Mask
Scoop out the flesh of half an avocado and the pulp of a medium sized banana.

Mash both the ingredients into a smooth pulp with the back of a fork.

Then add 4 tablespoons of beer to it and mix everything into a mixture with a paste like consistency. Apply this homemade hair mask on the hair and the scalp and wash it off after thirty minutes.
With soft tresses like these, you are bound to feel like a Rapunzel.
10. Sandalwood Oil, Vinegar and Beer Hair Mask
Beer is excellent for dry hair. Curly hair which is prone to frizz needs the minerals and antioxidant content of the beer along with the goodness of the vinegar to coat the external layer of the hair shaft allowing it to look more manageable.
Combine half a cup of beer, half a cup of vinegar and five drops of sandalwood oil in a homemade hair mask and rinse (or spray the mixture) your damp hair with it.

Leave it on for thirty minutes before you wash your hair.
Locking it the moisture, this hair mask improves the texture in the long run.
11. Strawberry and Mayonnaise Hair Mask
Dry, damaged hair needs the goodness of both strawberries and mayonnaise to replenish its depleted reserves of protein.
Mayonnaise with the goodness of eggs and milk products, is an essential component in the homemade hair mask for dry hair.
Mash 5 to 6 strawberries into a pulp and add a tablespoon of mayonnaise to the mashed pulp.
Apply the pack first at the roots and then throughout the length of the hair.
This regular drill must be followed by a couple of hours of leaving the hair mask on followed by repeated rinsing.
12. The Henna Hair Mask
Another old is gold recipe, this one is probably the most popular trick up the sleeve that every Indian woman has learnt.
Soak some henna powder, readily available in the market in water and leave it overnight.

The next morning, you will notice that the henna has absorbed some amount of the water.

Then add a couple of egg yolks, or a tablespoon of yoghurt in the mixture.

Apply it on your locks and let it sit on your head for at least two hours.
This homemade hair mask with henna as its main components give your hair a nice sheen and dark brown undertones to your natural hair colour. The eggs and yoghurt caters the hair's needs by paying equal attention to the scalp and the hair follicles, keeping them healthy.
Each ingredient in the above list works towards improving your hair texture has been recombined with a number of other similar ingredients in these homemade hair masks. The biggest plus is their easy availability. These hair packs, free from any chemicals and freshly prepared just before use are apt for your hair. Just apply, sit and let the ingredients spin their magic on your tresses. The preparation of the pack right before
The preparation of the pack right before an application may seem like a downside, but once you truly experience the magic, the effort will seem worth it. Nevertheless, a little effort goes a long way.
Don't have time to prepare Home made  Hair Mask for Dry Hair. Check out the most popular Natural Hair masks   in   INDIA   &   UNITED STATES 
---
Image Credit: Flickr by  Miranda salamon
Last Updated 14/01/2017