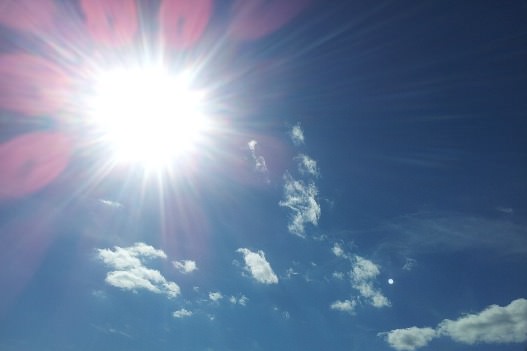 The sun is high over our heads during summers and we all search for ways to beat the summer heat. The scorching sun rays, along with the humidity causes extreme exhaustion of the human body.
Managing Director of Director of Integrative Pain Management at The Mount Sinai Hospital, Mr. Houman Danesh says, "The body cools down primarily by the evaporation of sweat on the skin. When the air is dry, sweat evaporates and cools the skin. When the air is humid, sweat doesn't evaporate as well and the body is unable to cool down."
The best way to beat the summer heat is to remain indoors during peak sun hours and stay hydrated. Nonetheless, our body become steamy during summers. Beat the heat with the following ideas we have bought for you!
Ways to beat the Summer Heat naturally.
Change your Food Habits:
Drink plenty of water and lot of fluids during summers to avoid dehydration and beat the summer heat. Drink at least 8 glasses to 12 glasses of water in a day to replenish your body's water store which reduces due to sweating.

Lemonade is a great drink

to refresh

the body instantly.

People

who

refrain from

drinking lemonade, can try coconut

water,

which is a natural thirst-quencher.

 Coconut water contains natural vitamins, minerals, sugar, proteins and fiber.
You can also try stews, juices and broths to avoid getting bored of the same fluid again and again.
Add fresh fruits and lot of salads in your diet, made from cucumber, tomatoes, spinach, lettuce, and beans to beat the summer heat. Dress it with olive oil and may be herbs. Salads contain natural water.
Eat fruits like water melon, pineapple, grapefruit, pears and various citrus fruits, which are high in water content. These fruits add to the moisture content of your daily diet that the body loses as it sweats.
Keep away from fried, oily and spicy foods as these take long to digest and slow down the cooling process of your body.


Do not drink chilled water exactly when you are back from the scorching heat. It makes a sudden change in the body temperature which affects your throat, even the voice box.
Dress Short and Easy:
Avoid wearing tight-fitted clothes or synthetic fabrics during summers. Such clothes make you feel suffocate and cause skin rashes and irritations.
Bring out your cotton during summers. Flaunt your short summer dresses this summer! Get a cute and chic short hairstyle for you to beat the summer heat. During summers, shorter is always the better.
Girls, who don't want to cut their lovely locks, can wear a hair bun. A hair bun keeps your hair tied and doesn't stick to your sweaty neck. Use menthol shampoo for summers to cool off.
Bathe frequently:
Enjoy cold showers quite frequently on a summer day to cool off. Bathe with cooling shower gels made of tea tree extracts or mint for a fresh and tingly feeling.
Avoid standing in front of coolers or air-conditioner exactly after taking a bath.
Limit your Sun exposure:
Stay indoors during the peak heat hours. Opt for a car and A/C cab beat the summer heat, if you require stepping out for work. Schedule our travel in a way that you miss the scorching afternoon sun.
Eye gears are a necessity in summers rather than a style statement. It protects your eye from getting wrinkles and crow's feet.
Wear a stylish summer hat to avoid the flame of the sun.
Apply sunscreen before you step out. Keep re-applying your sunscreen lotion or cream after every two to three hours. Use a sunscreen with SPF 15, or SPF 30, about half an hour before you go to the sun. Select the correct sunscreen for your skin. Use oil-free sun block for oily skin. Older women may go for the vitamin-enriched one. A sun block combined with moisturizer works best for working women.
Protection from Dust and Insect:
Apart from the scorching heat, you have to protect you from dust and pollution. Dust causes throat infections or bronchitis or may be even laryngitis. Hold a scarf throughout your mouth as a precaution while you travel.
Use insect repellents to protect yourself from mosquito bites and other insect infections.
---
Image Credit:  Pixabay by Julia Falkner
Last Updated on 14/01/2017