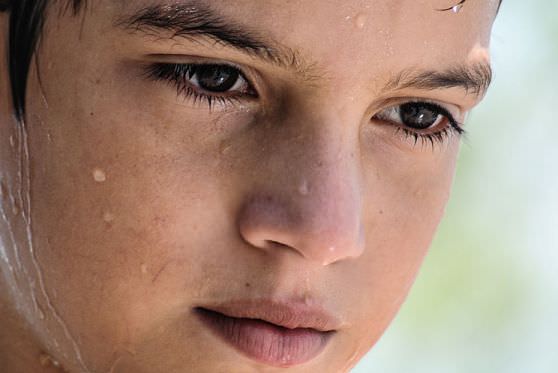 Throughout our day, we tend to witness secretion of sweat, not solely on humid mornings and afternoons, but on evenings too. Summer calls for adapting yourself according to the soaring temperatures outside. Though sweat is body's mechanism to cool off your body, a sweaty face can ruin many things including your general appearance. Not to forget it can be a turn off too. While brushing your face with some powder is a temporary solution, you can try the following two excellent ideas to deal with the oil secretion on a long-term basis. An excellent solution to the skin care woes during the summer, did you ask? An excellent Skin Care Tip for Summer, we agree!
1. Rose water and

multanni mitti

face pack :
Multanni mitti is easily available at any supermarket and has been a part of the Indian tradition for a long time. Multani mitti or mineral clay, as the name suggests is rich in minerals which works like a dream on the grime and the sweat to leave you with a dry clear skin.
Take a tablespoon of the mitti in a bowl and mix it with some rose water. You can make rose water at home by taking some rose buds and tearing off its petals in water.
When the water sits for a few hours, it imbibes the goodness from the rose.
The amount of rose water depends on the consistency of the mixture.
While most like to use it as a face pack, some also use it as a cleanser or body scrub ( You can try Natural facial Scrub  ) .
People with oily skin prefer to do it every week, whereas for others with combination skin, this is an excellent skin care tip for summer, more so because the mineral clay controls the oil secretion whereas the rose water cools and soothes the skin.
---
5% off on Face , Body  & Special Treatment ( first purchase ) + Free shipping on $50 orders + 30 DAYS MONEY BACK GUARANTEE
---
2. Face Freshener :
Another easy way to keep yourself fresh and avoid profuse sweating is to keep spraying your face with a face freshener. While the market is flooded with these items with added preservatives, why not make your own face freshener!
Even though you can simply fill up a spray bottle with normal chilled water and use it to keep your face fresh,
You can infuse the water with fresh herbs and stand it for six to seven hours at a stretch to create a fragrant concoction with a long and lasting effect.
From mint and rosemary to thyme and cucumber, any cooling and soothing herb is perfect for the purpose.
In fact, you can even dissolve aloe vera gel in the bottle to keep oil secretion at bay.
Put these 2 recipes to good use this summer and you shall see the changes for yourself. Nevertheless, of course, that might need time. We are simply being realistic here!
Skin care tip for summer on controlling the oil on your face comes handy ; sometimes, even irrespective of how much you sweat or what is your skin type!
Read More
---
Image Credit : Wikimedia