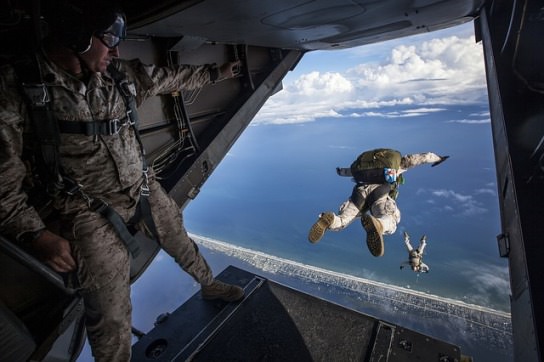 When your health and diet routine isn't measuring up to your objectives, then you seriously need to consider a new form of diet plan that addresses every goal of weight loss while keeping you fit and in good health.
Among all the various diet plans doing the rounds today, the military diet is by far the best of the lot guaranteeing you a loss of ten pounds in three days.
The main objective of the military diet is to lose weight within a short time. It is one of the most motivating diets producing results far beyond your own expectations.
The biggest advantage of the military diet includes some of your favorite foods where you need not omit salts, sugars and carbs.
Although the three day military diet allows you to enjoy your favorite ice cream, it still isn't a breeze and takes dedication and commitment to stay focused for high-end goals. This form of diet will benefit those used to eating large quantities of food.
What is the Military Diet?
The military diet is the same as intermittent or fasting during intervals. It enables you to lower your calorie intake by less than 1000 a day which lowers you IGF-1 levels (insulin growth factor). Low levels of IGF lead to weight loss and faster fat burn. A Low IGF-1 level also reduces the risk of diabetes.
In the simplest of terms, the military diet helps you lose ten pounds in three days. That is why it is also known as the military 3-day diet. The diet is designed to stimulate and boost metabolism, burn fat and lose weight as fast as possible. It is a natural form of weight loss without the need for supplements, pills or strenuous and rigorous workouts.
The military diet combines low-calorie foods compatible to your metabolic system having the potent chemical ability to kick start weight loss as early as possible, It consists of a 3-day diet plan with 4 days off. During the diet, your metabolism keeps burning fat and doesn't slow down. The diet is beneficial when you need to lose weight for a special occasion where you have very little time. However, there may be moments when you experience a few hunger pangs here and there. The idea is to stay focused on the goal of losing ten pounds in just three days.
How to do the military diet ?
The main military diet meal plan is simple. You just need to follow it for three days in which you need to consume three meals a day. These meals contain select ingredients known for their metabolic boosting properties that initiate faster fat burn. Moreover the additional benefit of these low-calorie meals ensure that your 3-day military diet calories are kept to a minimum.
After the 3 day military diet menu, you will have four days off in which you need not observe the 3 day military meal plan. However, you need to follow some rules here where your calorie intake does not exceed 1500 calories. During the 3 day military diet plan, you will need to consume the meals suggested exactly at that particular time of day and not otherwise.
THE MILITARY DIET MEAL PLAN – DAY 1:
BREAKFAST 
½ Grapefruit (Chakotra). If you can't get grapefruit, try Pomelo as it contains similar properties as grapefruit.
1 slice of wholegrain toast
1 tablespoon Peanut butter
1 cup Tea or Coffee
LUNCH
½ cup of Tuna / Mackerel / King Fish or any lean protein such as Chicken Breast / Egg white
1 slice whole Grain toast
1 cup Tea or Coffee but not decaffeinated
DINNER
85 Gms of Lean Meat, Chicken Breast or Fish such as Shrimp / Tuna / Bekti / Mackerel / King Fish. You can also consume low calorie protein substitutes such as egg whites or 1.5 cups of low calorie mixed vegetables such as broccoli, kale, peas, tofu and spinach or green beans
1 Small Apple
½ Banana
1 Cup Vanilla Ice Cream
THE MILITARY DIET PLAN – DAY 2:
BREAKFAST 
1 Egg
1 slice of Wholegrain Toast
1/2 Banana
LUNCH 
1 cup of Cottage Cheese / Paneer
1 hardboiled Egg
5 Salted Crackers / Biscuits
 DINNER 
2 Hotdogs without the buns
1 cup of Broccoli
½ cup of Carrot
½ Banana
½ cup of Vanilla Ice Cream
 THE MILITARY DIET MENU – DAY 3:
BREAKFAST 
1 slice of Cheddar Cheese
5 salted Crackers
1 small Apple
 LUNCH 
1 egg cooked to your liking
1 slice of Wholegrain Toast
DINNER 
1 cup Tuna or King / Mackerel
½ Banana
1 cup of  Vanilla Ice Cream
Guidelines to observe during the 3 Day Military Diet meal plan
During your military 3 day diet do not consume any snacks or drinks other than what has been mentioned. Water is the best drink you should consume throughout the day as well as herbal tea free from caffeine. Avoid sugar. If you just can't do without a cup of coffee, then its best to limit yourself to two cups of black coffee as it contains the least amount of calories.
After the 3 day military diet plan, you will have four days off in which you can consume your normal diet but with low calorie and high protein foods. Ensure that you consume not more than 1500 calories a day. There are several nutrition charts available on the internet to refer to for this purpose.
Does the 3 Day Military Diet Work
The 3 day military diet is one of the best methods to lose weight in a short span of time. The sudden weight loss is justified by the absence of calories with high protein content. Moreover it induces a two way weight loss feature into your body. The absence of calories makes your body reach out to the existing stores of fat in which case visceral fat and stubborn pockets of fat that aren't usually burned easily.
The second factor is the metabolism boosting foods that increase its fat burning ability. The intermittent fasting feature of the three days military diet ensures your body does not consume any calories in between. Thus during the three days you are burning fat continuously.
The military diet will make you feel hungry at various intervals but this should be overlooked as you need to abide by the rigidity of the diet as best as you can. It is the only way it will produce the phenomenal results of losing weight in three days. However, as this is a rigid diet it may not be recommended for anyone suffering from conditions such as low blood sugar.
Always consult your doctor before attempting to go on the military diet.
---
Image Credit : Pixabay